WED
03
AUG
American Counselling Trends - learning and networking event for the IACP Members

CPD

FREE
Joint event organised by the IACP, the University of Holy Cross, New Orleans and DePaul University, Chicago
Trinity College Dublin, Dublin 2
03-08-2022 2:15-6:00 pm Free Sessions (3 CPD points) 6:30-7:30 pm Networking drinks reception
3 CPD hours
Number of places limited to 100.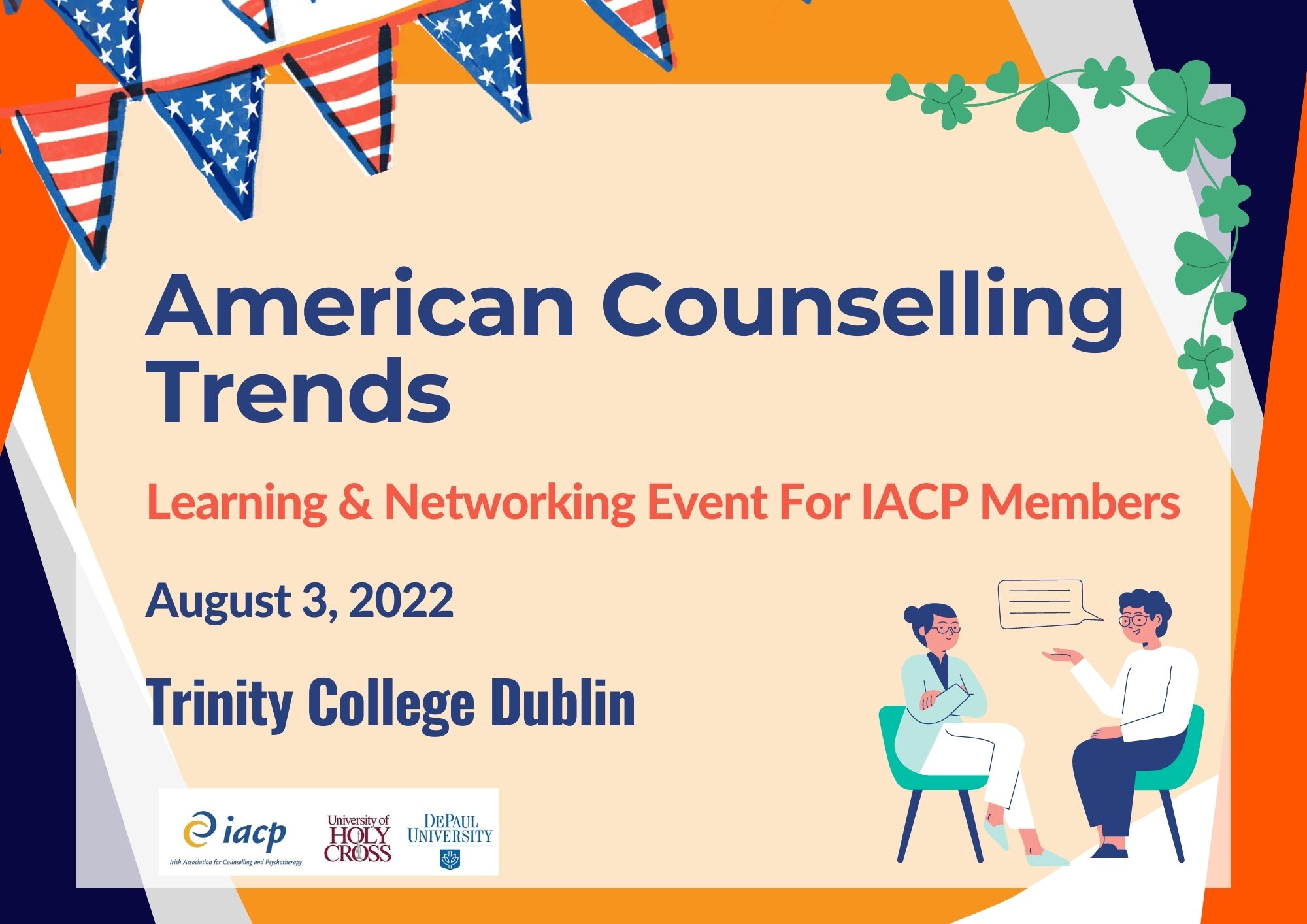 We are delighted to invite IACP Members to this free event organised jointly by the IACP, the University of Holy Cross, New Orleans and DePaul University, Chicago, which will take place in Trinity College Dublin on the afternoon of 3rd August 2022. During the "American Counselling Trends" - a learning and networking event for the IACP Members, the attendees will have a chance to meet with American Students, Counsellors and Professors and hear them present on counselling developments in the USA. There will be also a networking reception after the event in Café en Seine.
Schedule:
13:30-14:00 Registration
14:00-15:00 Breakout 1
2 options:
Janice Ringstaff, RN, BSN, MA, LPC-S, EdD, Employment: Ringstaff Counseling LLC & Hamilton Counseling & Consulting, Duncanville, Texas
Title: Parental Communication Patterns And The Impact On Young Children
Lisa Surrency, PhD, LPC-S, NCC, Registered Play Therapist, Program Director, Counseling Solutions, Catholic Charities Archdiocese of New Orleans, New Orleans, Louisiana
Title: Recharge Yourself: Learning effective ways how to combat burnout and compassion fatigue!!!
15:00-15:15 Break
15:15-16:15 Breakout 2
2 options:

Dr. Cheryl Young Hamilton, EdD, LPC-S, NCC, RPT-S, ADHDCCSP, IPT-CST, Hamilton Counseling and Consulting Duncanville, Texas 75116
Title: The aftermath of COVID-19: A therapist guide to implementing self-care after the storm
Dr. Ted Remley
Title: Legal Issues in Counseling in the United States
16:15-16:30 Break
16:30-17:30 Breakout 3

2 options:
James M. Benshoff, Ph.D., LCMHC, NCC, Professor Emeritus, University of North Carolina at Greensboro, Greensboro, NC
Title: PARS: A model for implementing group process skills
Dr. Pat Thomas
Title: Self Care for Counselors
17:30-17:45 Break
17:45-18:15 Closing Feedback Session
18:30-20:00 Reception in Café en Seine
Number of spaces is limited to 100. Regarding networking reception at Café en Seine, please indicate when booking, if you wish to attend it. Please note that if you book with this option but cannot attend it- you must let the IACP know in advance, as there is a fee for the organisers associated with each booking.
CPD certificates will be sent to participants after the event.