IACP 2018 Conference Charity Partner Women's Aid [22/10/18]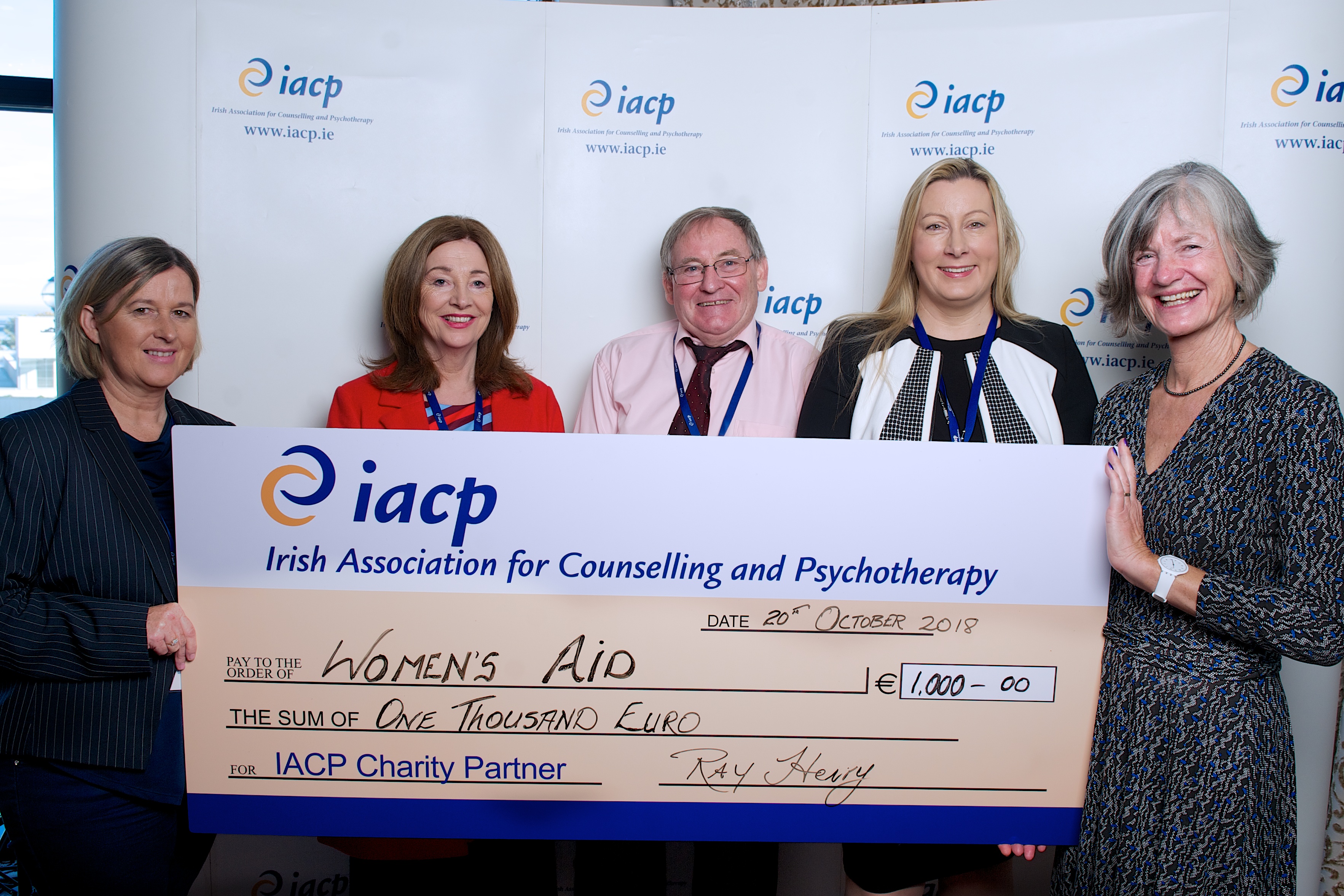 Women's Aid were appointed as the IACP Conference Charity Partner 2018 by the IACP Dublin Regional Committee.
About Women's Aid
Women's Aid is a leading national organisation that has been working in Ireland to stop domestic violence against women and children since 1974.
They work to make women and children safe from domestic violence, offer support, provide hope to women affected by abuse and work for justice and social change. Over the course of 40 years the organisation has built up a huge body of experience and expertise on the issue, enabling us to best support women and children and share this knowledge with other agencies responding to women experiencing domestic violence.
Since their foundation in 1974, there has been a profound shift in social, cultural and political attitudes towards abused women in Ireland. Women's Aid has played a crucial part in this shift. Their direct services to women have been supported by their efforts to change and improve societal and political responses to domestic violence. Their ultimate aim is to stop domestic violence and make women and children safe.
Their Direct Services for women experiencing domestic violence underpin and inform all of their work to end domestic violence.
Margaret Martin has been Director of Women's Aid since 2003. Margaret has over 30 years' experience in the NGO sector including the areas of domestic and sexual violence, health and education.
Direct Services for Women
The Women's Aid National Freephone Helpline 1800 341 900 operates 24 hours a day, seven days a week, and provides support and information to callers experiencing abuse from intimate partners.
The Women's Aid Helpline is the only free, national, domestic violence helpline with specialised trained staff, fully accredited by The Helplines Association and with a Telephone Interpretation Service facility covering 170 languages for callers needing interpreting services.
Women's Aid also offers a Dublin-based One to One Support Service. Their Support Services Team provide more in-depth one to one information and support, Monday to Friday, in six locations throughout Dublin and its surrounding areas including:
Ballymun
Coolock
Dublin City Centre - North and South sides
Dun Laoghaire
Swords.
Other meeting points for Support Meetings include hospitals, or other locations chosen by women for safety reasons. Referrals to our Support Services come via the National Freephone Helpline, as well as from a range of other services such as An Garda Síochána, GPs, social workers and hospital staff.
The Support Services Team also offer a Court Accompaniment Service, which provides advocacy and support specific to the particular needs of women seeking legal redress regarding violence by a current or former husband or partner.
Women's Aid operates the Dolphin House Support and Referral Service, in partnership with the Dublin 12 Domestic Violence Service and Inchicore Outreach Centre in the Dublin District Family Law Court in Dolphin House. Women's Aid also refers woment to local domestic violence refuges and support services around the country.
Working for Justice and Social Change
In addition to their Direct Services, Women's Aid acts for justice and social change by engaging in policy, representation and communications and campaigns activity at a national level. Women's Aid also provides extensive information and statistics on domestic violence in print and online. They also provide specialised training on responding to domestic violence.
It is thier sincere hope that by increasing understanding and awareness of domestic violence they will improve societal responses to, and increase protection for, women and children affected by abuse.
Website: https://www.womensaid.ie/
Email: info@womensaid.ie
Contact Number: 01 6788858

CHY Number: CHY 6491