Policy Forum for Ireland [24/10/18]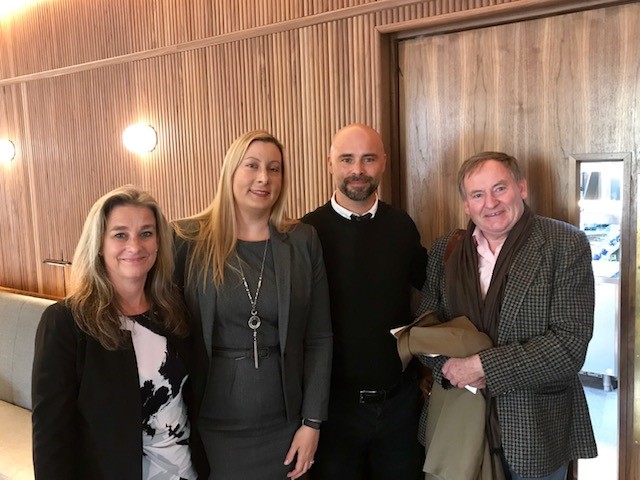 Lisa Molloy IACP CEO with Dr Ellen Kelly, IACP Research and Education, Patsy McCaughey, Deputy Principal, The High School and Ray Henry, IACP Chair
Priorities for mental health care in Ireland: Promoting awareness and ensuring effective access pathways in adult care and the future for child mental health services.
Lisa Molloy, IACP CEO, was delighted to be invited to speak at this excellent keynote seminar, and to represent counselling and psychotherapy in Ireland. The seminar was held on October 24th in Dublin's city centre and was attended by key TDs and Senators as well as a wealth of CEOs and Directors of mental health services.
Jim Daly, TD – Minister of State at the Department of Health with special responsibility for Mental Health and Older People – began the seminar by outlining an Oireachtas point of view. He was happy to announce the budget for mental health care which is now at 1 billion, Primary care counselling is not included in this as it has a separate allocation. He noted that the biggest challenge in this arena is not funding but recruitment – severe problems with getting specialised staff to deliver the services. CAMHS teams need to be psychiatrically led and there is a worldwide shortage of consultant psychiatrists. He mentioned an important recent collaborative initiative to tackle mental health issues – Pathfinder – which aims to bring a number of departments together under one umbrella.
Senator Joan Freeman spoke about the reform of children's mental health care. She noted how Irish 11-15 year olds are the second highest in Europe to present with emotional issues on a weekly basis. She called for 'care underneath' so that children are much less likely to end up in crisis care. Care underneath includes talk therapy – and she noted the absence of this in communities and an over reliance on pills. Children are our future and talk therapy needs investment Senator Freeman said. She noted how CAMHS should be the last resort and we are currently seeing it as the first resort. She called for a 'rethinking outside the box' and 'joined up thinking' when it comes to providing services for children.
This was a great forerunner to Lisa Molloy's presentation which focused on new counselling and psychotherapeutic initiatives for school children. In keeping with a theme of earlyintervention, Lisa called for a next step commitment from Government to work with the IACP in the development of a Resilience Building primary school mental health programme and a National School Based Counselling Programme. Current responses to children experiencing mental health difficulties in school are ad hoc and inconsistent. Lisa drew on recent RCSI research that says that 1 in 3 thirteen year olds have experienced a mental health issue and this rises to 1 in 2 by the age of twenty-four. She also noted that a recent UK report for Barclay's found that "specialist counselling in schools can help to tackle child behavioural problems…71% of children improve their behaviour in a year, and the long-term savings are likely to be in the region of £3 for every £1 invested." In her presentation Lisa suggested ways to remove the common barriers or the 'buts' that often accompany the push for new initiatives - ownership, funding and resources. In a solution focused approach, Lisa highlighted again that the IACP is best positioned to deliver these programmes with over 2,700 fully accredited professional members.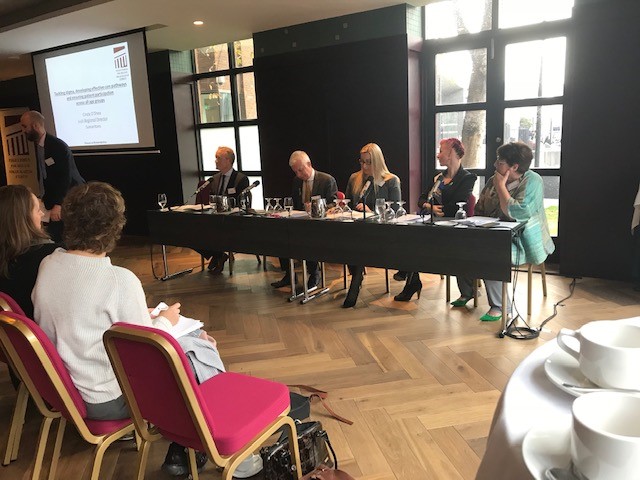 Lisa Molloy IACP CEO in centre of panel with Barbara Brennan, Mental Health Consultant and Dr Miriam Kennedy, Director, Communication and Public Education, The College of Psychiatrists of Ireland and Seán Crowe, TD, Joint Committee on the Future of Mental Health Care and Dr Brian Osbourne, Assistant Medical Director, ICGP.